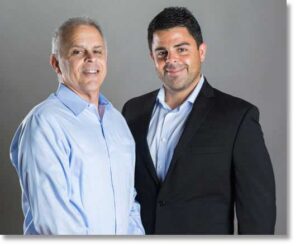 The Avedian family has deep roots in the Central Valley of California. A family history of agriculture and entrepreneurs that has provided a rich history of work-ethic and a valued tradition for business with a handshake and a promise to provide excellent service by building trust.
Mark Avedian established Avedian Properties in 1994. Located in Visalia, California and Exeter, California, they provide real estate and brokerage services. The family owned and operated business is now led by father and son, both named Mark. A family approach to reMARKable service that carries through their personal service and their agents.
Avedian Properties is the largest, family-owned and operated real estate company in Tulare County. We not only work here, we live here, and our children go to school here. We participate in many local events, support our local charities, the arts, athletics, and education.
We are proud and active members of the Tulare County Association of Realtors, along with the California and National Association of Realtors. We are members of several Multiple Listing Services including Tulare County, Kings County, Fresno County, Kern County and the Central Coast. Our agents are active in our associations, and we have multiple "Past Presidents", "Regional Chairs," and "Realtor of the Year" winners.
Mark Avedian's curriculum vitae has notable awards and service to boards in the community including Tulare County Association of Realtors-Realtor of the Year, Multiple Listing Chair, Association Secretary/Treasurer, President-Elect, and Association President. Mark has been active in the California Association of Realtors as the Assistant Regional 12 Chair and Region 12 Chair and the National Association of Realtors as the Legislative Liaison. In addition to his service to the real estate industry, Mark has been on multiple community and business boards including Visalia Fox Theater, Board of Directors Downtown Visalia, Raisin Board, Pistachio Commission and the Prune Board. Many past College of Sequoia students call him Coach in Women's Basketball, Volleyball, and Tennis.
We have many experienced agents who represent clients in residential, commercial, and agricultural properties. In addition to current property owners, we also represent new home builders and investors in buying or selling.